Awakening the Purpose in your Life
The mission is simple, awakening the purpose in your life. The atmosphere is set through prayer and worship to see God change lives every time we gather together. The Awakening is about having an encounter and experience with God that will forever change lives.
Mankind is born into sin and needs salvation that is only available through the blood of Jesus Christ to all who believe and receive Him as Savior and Lord.
Romans 3:23, 6:23, 10:13, Ephesians 2:8-9, Titus 3:4-7

The finished work of Jesus Christ on the cross provides healing for the spirit, soul, and body.
Isaiah 53:4-5, Matthew 8:16-17, 1 Peter 2:24, James 5:14-15, 3 John 2

The sanctifying power of the Holy Spirit inside the believer provides the power to live a holy life. Sanctification is the process of being separated from sin and dedicated to God, which begins at salvation and continues throughout the lifetime of the believer.
Galatians 5:22-23, 1 Thessalonians 4:3-5, 2 Peter 3:18

The baptism of the Holy Spirit is promised to all New Testament believers subsequent to salvation. This Acts chapter two filling is power for each individual to build the Kingdom of God.
Joel 2:28-29, Matthew 3:11, Acts 1:4-5, 8:2-4, 38-39, 10:44-47

God's Word informs us that the second coming of Jesus Christ is promised to all believers.
Acts 1:11, 1 Thessalonians 4:16-18, Titus 2:13

The Word of God is clear that heaven is the eternal home for everyone who has accepted Jesus Christ on earth and a hell for those who rejected Him.
1 Corinthians 15:20-23, Revelations 20:4-6, 12-15, Luke 16:19-31

At The Awakening we are very intentional about discipling all believers to help reach all people to Jesus Christ.
Matthew 28:19-20, Mark 16:15-20, Acts 1:8, 1 Peter 2:5
Souls Matter at the Awakening Church. Souls are why we began and souls are still the vision today. Seeing people saved, set free, and raising leaders to implement the vision and help just one more is why we do what we do.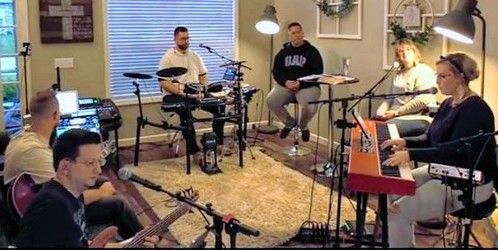 The Awakening Church began in 2009 with a vision to see lives changed, people set free from life-controlling issues, and walking in their God-given purpose. Pastor Jeff and Lorie Carrell have a passion for seeing people that once were without hope, come to find Jesus and have a new life in Him. While not wanting to launch just another church, they launched a movement. They launched a place where ALL are welcome to come in and hear about Jesus Christ. They wanted to see people radically changed into a new life.Since then, this church plant/movement has turned into a Salvation Hub and Revival Center for this region and beyond. Pastor believes that each one of us who have accepted Jesus Christ and are filled with the Holy Spirit, carries revival in us. As a carrier of revival, Pastor reminds The Awakening that they are called to see people radically changed! Over the years we have seen hundreds of people come to know Jesus Christ as their Savior and now are living a life of freedom.
Revival is here and the time is now - We have a Seat for You!How it all started...