Students MarXed by Jesus Christ
Whoever you are, wherever you're from, you are welcome here.
The Awakening Student Ministries includes both Middle School and High School students. While many of our big events include both age groups, the teaching time and small groups are age and gender specific. We know the importance of building community in this age group and we intend to provide this environment.
If you are a parent/guardian of a student, we want to partner with you, find out how you can do that below!
MarXed meets Monthly on the 3rd Thursday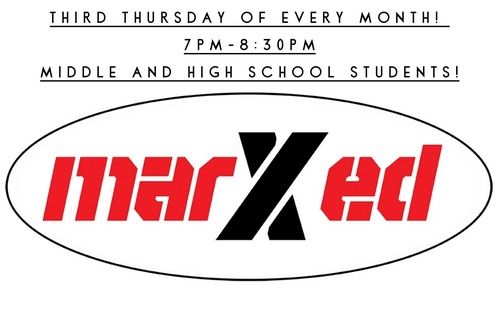 MarXed is our outreach ministry for students hosted at Parkview Boys and Girls Club of Huntington. This night exists of dinner, connection, games, and a testimony of those who have been MarXed by Jesus Christ.
*** February 27th **** change of schedule due to Winter Jam
Battle of the Sexes 7p
"Every student has a future worth fighting for." – Joseph Sojourner
Developing relationships and community with our students is something we take very seriously. Each small group is divided up by age and gender so that students have a safe place to go to. In a world filled with technology, this is a place where real relationship and discipleship occurs.
If you have any questions or if you just want to connect, send us a message!